Get link

Facebook

Twitter

Pinterest

Email

Other Apps
NVIDIA GeForce RTX 3080 is a new generation graphic card Launched on September 17,2020.
NVIDIA GeForce RTX 3080 is one of the most powerful graphic card in the current era of gaming. Which supports 4K gaming on 49(avg) FPS . The textures and performance can not match any graphic card before NVIDIA GeForce RTX 3080. As a best gen card, NVIDIA GeForce RTX 3080, is a bit more pricey on pocket with starting price at 700$.
Lets check whether it is a good decision to spend a huge amount of money on a graphic card or not.
Lets Talk about the exterior of NVIDIA GeForce RTX 3080.
EXTERIOR:

It has dual cooling fan system, and is put to to design so perfectly. That the card does not heat up as quickly as predecessors. On Front you can see a cooling fan and RTX 3080 logo embossed in Silver, this completes mate black desing of the case.
On the Side You can see a LED GeForce RTX Logo which increases the beauty of your CPU.
On the back panel you can find four 1 HDMI 2.1, and 3 Display-ports 1.4a ports. which can come handy if you are a streamer or Gamers using multiple screens.
You can also find a vent for the intake of air, which of course enhance your gaming experience and let the card be cool.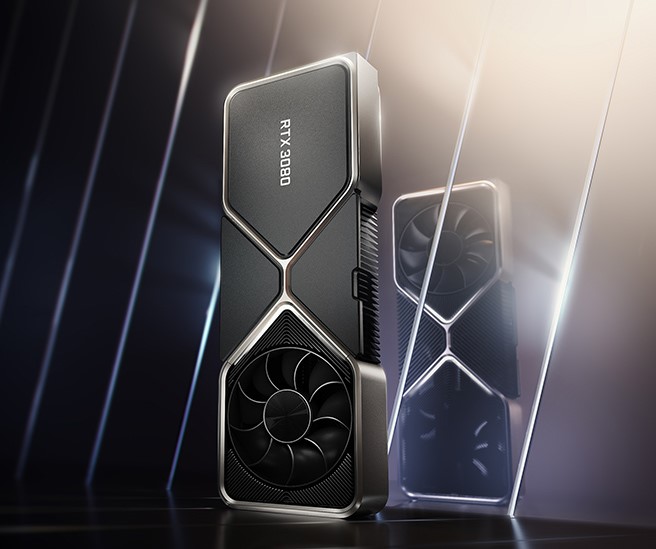 On the back you can also find a cooling fan with mate black color scheme.
As NVIDIA RTX 3080 is for the best gaming performance and to render your work quickly, All you will find are vents for air on its body. This will enhance your gaming and rendering experience.
Now moving forward to its Specification
SPECIFICATIONS:
GPU Engine Specs:
NVIDIA CUDA® Cores 8704
Boost Clock

Max FPS. Max Quality. Powered by AI.
NVIDIA DLSS is groundbreaking AI rendering that boosts frame rates with uncompromised image quality using the dedicated AI processing Tensor Cores on GeForce RTX. This gives you the performance headroom to crank up settings and resolutions for an incredible visual experience. The AI revolution has arrived to gaming.
Get link

Facebook

Twitter

Pinterest

Email

Other Apps